The ProjectRoom File Downloader lets you login to ProjectRoom and download any of your project files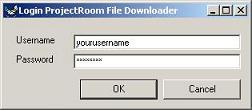 and select from projects you have access to.
You can manually selected files to download or simply click "Select ALL files" to download all files in a project. You can even delete the files from the server as you download (see below).

Once you hit the download button (above) you will need to specify the download location on your hard disk or network (see below).